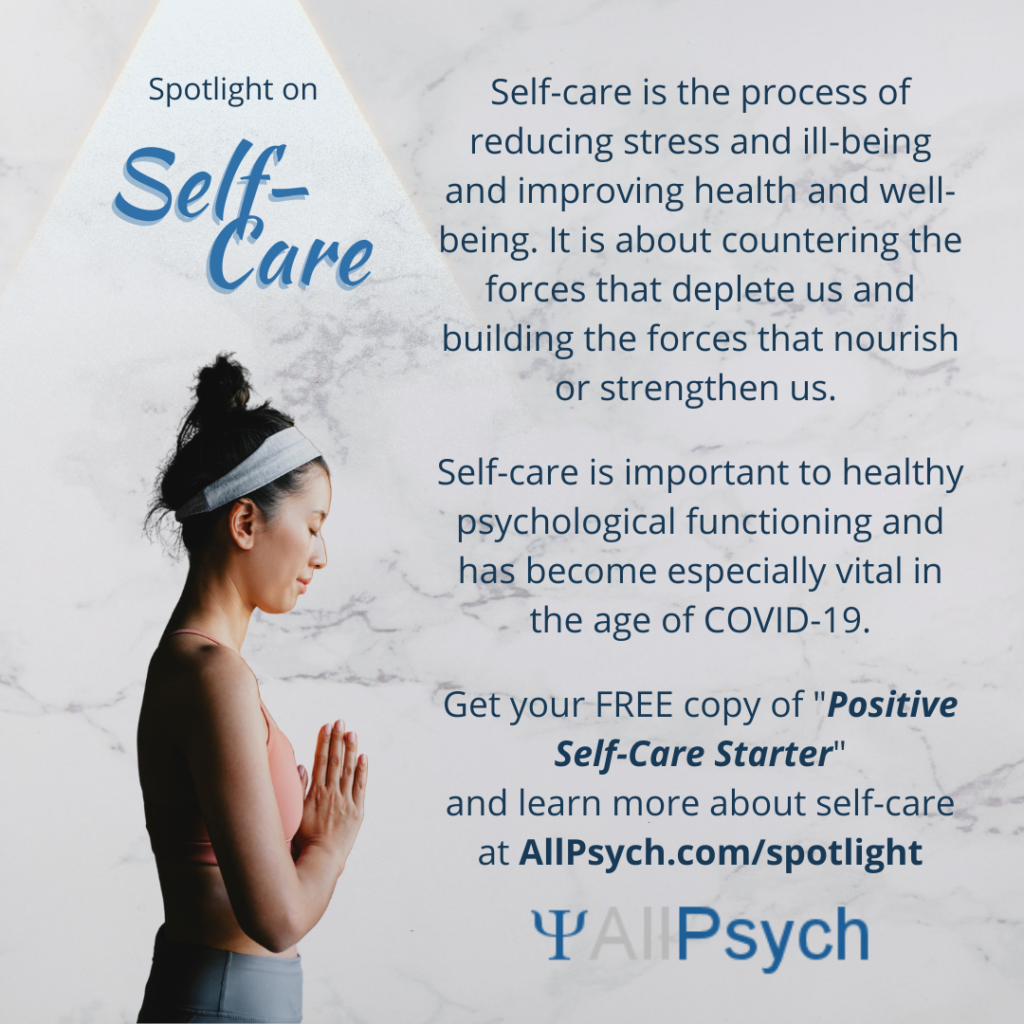 Self-care is the process of reducing stress and ill-being and improving health and well-being. It is about countering the forces that deplete us and building the forces that nourish or strengthen us. Self-care is important to healthy psychological functioning and has become especially vital in the age of COVID-19.
Like all animals, human beings are preprogrammed for survival, which means we are also vigilant to danger. This naturally pessimistic stance is the foundation on which we add stress associated with COVID plus our everyday stresses, along with our fears, ruminations, and insecurities. It can get rather heavy pretty fast and the weight of all these stressors weakens our physical and psychological immune systems. We become less resilient and less healthy.
One of the biggest misconceptions about self-care is that it is selfish. How could something so self-focused possibly be good for anyone other than the self? Jessica Brubaker in the video below talks about how we tend to be cruel to ourselves one we become adults and are not very good at taking care of our own mental health. She defines self-care as "being in a health and functional relationship with the self," arguing that we often take better carte of others than we do ourselves. Perhaps we should treat ourselves the same way we treat others?
 When we talk about relationships in psychology, we often refer to the three conditions that Carl Rogers argued were necessary for positive change to occur. These three components include congruence, regard, and empathy. Congruence is realness. We do better when we perceive others as being genuine rather than having ulterior motives. Regard, or what Rogers referred to as Unconditional Positive Regard, is about being accepting without judgment - it is the idea that we are all worthy of regard and respect no matter what. The final condition, empathy, is about understanding someone from their perspective rather than seeing others through our own, often biased lens.
Interestingly, we tend to do better at the three conditions when we form relationships with others. We don't do very well when with ourselves though. Dr. Adia Gooden argues that this tendency to see ourselves as less important or less worthy leads to issues of self-worth and that low self-worth is a significant factor in mental illness, especially disorders related to mood and anxiety. Low-self-esteem also tears away at our protective factors and leaves us feeling vulnerable, unprepared, or just not worthy of attention.
So what would happen if you started treating yourself like you would treat a good friend or the child of a good friend. Would you notice any difference? Would you feel better about yourself? Would you feel more empowered?
As a member of AllPsych you will receive your free copy of Positive Self-Care Starter, Five Activities to Build Resilience and Counter Stress. Click the download link below.
The five activities in this booklet were developed to stand alone as single activities that pull from the research on positive psychology aimed at countering daily stress and building long-term resilience. They are also designed to work together as a positive long-term self-care plan. You may want to read them all before deciding which to engage in and if you decide to use them as a starter system of self-care, it is recommended that you do them in the order provided. To track your self-care, you can use the Positive Self-Care Worksheet included after the five activities. 
You can read more about related topics, such as self-efficacy, self-care, CBT, and Positive Psychology using the links at the end of this article.
References
Brubaker, J. (2020). Why self care isn't selfish. Ted Talk Grand Canyon University. Retrieved from https://www.youtube.com/watch?v=kShBhnnvJRU&t=12s 
Gooden, A. (2018). Cultivating unconditional self-worth. Ted Talk DePaul University. Retrieved from https://www.youtube.com/watch?v=EirlZ7fy3bE
Heffner, C. L. (2022). Positive self-care: Five activities to build resilience and counter stress. Retrieved from http://blog.allpsych.com/shop.
Learn More in the AllPsych Blog
Online Courses through AllPsych THRIVE
Take the Free Online THRIVE Course Psychological Capital or How to Be a Hero

Take the Free Online THRIVE Course Activating Strengths in Pursuit of Well-Being
Purchase Grit, Peak, or other Modern Psychology Texts
Purchase Grit - The Power of Passion and Perseverance by Angela Duckworth through our Amazon Affiliation

Purchase Peak: Secrets from the New Science of Expertise by Ericsson and Pool though our Amazon Affiliation

Purchase Positive Psychology Books by Martin Seligman and others through our Amazon Affiliation